Bob's Lost In Space B9 Robot Project
|
home




Torso Vents Misc
This page has a few vent reference pictures.
Everyone knows that the front vent slides to open and is just inside the torso vent opening.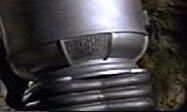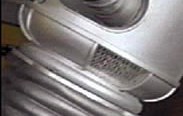 Rear Vent, left side vent, right side vent.
Here is that inside shot that I'm sure many have questioned that side vent.
This photo is supposed to be of the original costume interior but may be a photo of the "restored" robot, or at some stage of restoration. That expanded metal looks as if it is certainly placed right over the vent and bent down around the edges. Note that you can clearly count the ribs in the front vent, there are 8 of them. I count 14 in the side vent.